Let us help you
Retire in Sarasota
Low-Maintenance Homes
Recreational Amenities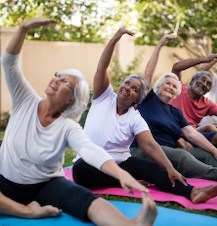 Planned Social Activities
Why Sarasota?
Did you know that Sarasota was recently ranked the #1 place to retire to in America? It isn't hard to see why. With gorgeous beaches, a wide array of luxurious homes and condominiums, and some of the most exciting recreation in the state, Sarasota is a gold mine for adventurers.
Retirees flock to this area for its one-of-a-kind lifestyle. The weather is pleasant year-round, you'll find more than one golf course around the corner from your home, and there are fun things to do for residents of all ages. Come explore Sarasota… and find the perfect place to retire.
Top Homes for Sale in Sarasota
Looking to Retire in Florida?
Homes are selling so fast you may miss them! That's why we are now offering Listing Alerts for you right to your inbox.
Featured Active Adult Communities
Top Active Adult Communities
Downsizing in Sarasota?
Have you outgrown your current home? Retirement is supposed to be fun, not spent cleaning extra bedrooms you don't use! If this feels all too familiar, then it might be time to consider downsizing. Here are some benefits to downsizing.
Less maintenance
---
One of the biggest perks to downsizing is that you'll spend less time maintaining and cleaning a smaller home. If you opt for a newer home, you'll defer potential maintenance issues for some years. And if you buy in a low-maintenance community, your yard work will be done for you!
Less stuff
---
Moving into a smaller home means you'll have less space, which in turn means you will need to declutter and pare down on your belongings beforehand. But this is good! This will give you time to go through the things that have likely been lurking around in your attic or basement, forgotten.
More time for fun
---
Ultimately, downsizing your home means bidding good-bye to the ball and chain of large-home maintenance and upkeep—leaving you more time to enjoy your retirement. If you live in Sarasota, you'll be glad for all the time; there's a lot to love here!
What People Are Saying
Thank you again for making the selling of our home a quick & stress free experience. We very much appreciate the communication and all the work that went into getting top notch exposure and a solid & quick sale. We will be certain to recommend your teams services to all we know.
Jeannette & John Genovese
"We have bought and sold three properties through Dennis and Teri Kotaska in the past 9 years. They are both at the top of their profession. They truly go the extra mile for their customers as far as making all phases of the sale and purchase of real estate highly effective with lots of sound professional advice. They have earned our trust and that of family members who we have referred to them as well. They are the best!!"
Pasquale and Marianne Bottiglieri
I have bought and sold many homes over my lifetime. Dennis G. Kotaska and his wife Terrie are the most professional I have every had the pleasure of dealing with. They started out as real estate agents selling us a property. Now, I consider them friends and my wife and I so appreciate all they did for us.
Let Us Deal with All the Paperwork
Our goal is for you to have an enjoyable and wonderful experience buying your ideal home in the Sarasota area. Finding you the ideal property for the best price and ensuring a smooth transaction are our top goals! Let our experienced real estate team represent you as you buy your next home.
Contact Us
Virtual Showings & Relocation Resources
Making a move to Sarasota just got easier! Whether you're planning a socially distanced purchase or want to buy your second home from across the country, you can use our Virtual Home Buying Program to streamline the entire process. Sign up for a video consultation to get started!
Contact Us