Let us help you
Retire in Sarasota
Low-Maintenance Homes
Recreational Amenities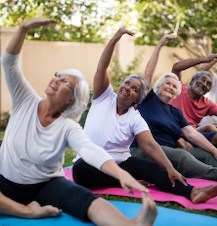 Planned Social Activities
Why Sarasota?
Discover why Sarasota has been hailed as one of the ultimate retirement destinations in the United States! Year after year, Sarasota boasts unparalleled charm and lifestyle offerings that make it a prime choice for retirees. Immerse yourself in the splendor of Sarasota's stunning beaches, complemented by a diverse range of opulent homes and condos that cater to your luxurious desires. Flaunting an array of exhilarating recreational pursuits, this city stands out as a haven for adventurers.
Retirees are drawn to this exceptional locale for its distinctive way of life. With its perpetually pleasant climate and a plethora of golf courses just a stone's throw away. Sarasota promises an unmatched experience. Delve into the allure of Sarasota, and unveil your dream retirement destination. Don't miss out on exploring our homes for sale in Venice, FL, and Lakewood Ranch as well, as we extend our exceptional services to these vibrant areas too. Your retirement paradise awaits!
Top Homes for Sale in the Sarasota Area
Looking to Retire in Florida?
Stay ahead of the curve with our brand new Listing Alerts, directly delivered to your inbox.
Featured Active Adult Communities
Top Active Adult Communities
Downsizing in Sarasota?
Have you outgrown your current home? Retirement is supposed to be fun, not spent cleaning extra bedrooms you don't use! If this feels all too familiar, then it might be time to consider downsizing. Here are some benefits to downsizing.
Financial Freedom and Savings
---
When you downsize, you often free up significant equity tied up in your larger home. This extra capital can be directed towards funding your retirement dreams, whether it's traveling, hobbies, or simply enjoying a stress-free life. With a smaller home, you'll also save on utility bills, property taxes, and maintenance costs, allowing you to allocate resources more efficiently.
Simplified Maintenance
---
A larger home typically demands more upkeep and maintenance, consuming your valuable time and energy. Downsizing to a more manageable space means less time spent on cleaning, repairs, and yard work, enabling you to embrace a low-maintenance lifestyle. This newfound freedom can be used to explore leisure activities, travel, or spending quality time with loved ones.
Enhanced Lifestyle and Accessibility
---
Opting for a smaller home often means choosing a more thoughtfully designed space that suits your current and future needs. Single-level living or properties with modern amenities can make life easier and more comfortable, especially as mobility may become a consideration in retirement. Accessibility features can provide you with the peace of mind to age in place gracefully.
What People Are Saying
Thank you again for making the selling of our home a quick & stress free experience. We very much appreciate the communication and all the work that went into getting top notch exposure and a solid & quick sale. We will be certain to recommend your teams services to all we know.
Jeannette & John Genovese
"We have bought and sold three properties through Dennis and Teri Kotaska in the past 9 years. They are both at the top of their profession. They truly go the extra mile for their customers as far as making all phases of the sale and purchase of real estate highly effective with lots of sound professional advice. They have earned our trust and that of family members who we have referred to them as well. They are the best!!"
Pasquale and Marianne Bottiglieri
I have bought and sold many homes over my lifetime. Dennis G. Kotaska and his wife Terrie are the most professional I have every had the pleasure of dealing with. They started out as real estate agents selling us a property. Now, I consider them friends and my wife and I so appreciate all they did for us.
Let Us Deal with All the Paperwork
Our goal is for you to have an enjoyable and wonderful experience buying your ideal home in the Sarasota area. Finding you the ideal property for the best price and ensuring a smooth transaction are our top goals! Let our experienced real estate team represent you as you buy your next home.
Contact Us
Virtual Showings & Relocation Resources
Making the move to Sarasota has never been more convenient. Whether you're orchestrating a purchase from afar or seeking your second home while miles away, our Virtual Home Buying Program is at your service to streamline the entire experience. Begin by signing up for a video consultation and take the first step towards your Sarasota dream home!
Virtual Home Buying Resources